The influence of Russian aggression in Ukraine today is felt far beyond its borders. Thus, in European countries, food prices are rising visibly, and there is a shortage of grain and oil supplies. The issue of energy is even more acute, as Russia, a major supplier of gas, coal, and oil, is trying to dictate its rules, change the terms of contracts, and threaten to cut off supplies. The abrupt abandonment of Russian resources may affect the quality of life of Europeans, but no one wants to work with a terrorist state and sponsor the war anymore. Thus, there is a global reformatting of the energy market, the search for new sources and partners. So does Europe have a chance to stay with energy resources, completely abandoning the partnership with Russia?
Ukrainian electricity as an alternative to Russian gas
Ukraine was completely disconnected from the power grids of Russia and Belarus on February 24, 2022. Initially, it was planned: testing of work in an isolated format, which was to take place on February 24–26, 2022. On February 27, Ukraine was to reconnect with neighboring countries. However, Russia's full-scale invasion of Ukraine changed plans and finally put an end to any relationship with the aggressor. Energy Minister Herman Halushchenko wrote about this on his Facebook page.
To the surprise of the Russian aggressor, Ukraine was not only able to meet its own electricity needs, but also began supplying resources to Poland on March 30. This became possible due to the rapid accession of Ukraine to the so-called "energy European Union" – the accession to the European energy system ENTSO-E.
The export of Ukrainian electricity will allow European countries to abandon supplies from Russia faster and without significant fluctuations. For Ukraine, it is an important element of EU integration and the opportunity to obtain additional funds to finance the confrontation in the war and postwar reconstruction.
Even now, during the war, Ukraine is increasing its electricity exports. This was announced by the Prime Minister of Ukraine Denys Shmyhal at a meeting of the Cabinet of Ministers on May 24: "In April, electricity exports to Poland increased by 35% compared to pre-war January. By the end of the year, we plan to expand the capabilities of Ukrainian energy companies and be able to export about 800 MW of electricity per day to the EU."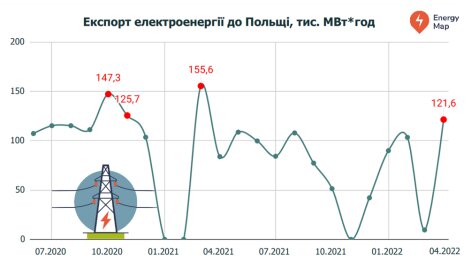 Let us remind you Ukraine currently has the technical capacity to export up to 2 GW per day to the EU. The plans are to increase the volumes to 4.5-5 GW, and in the most optimistic scenario – up to 6 GW. Negotiations are underway. Ukrenergo also talks about plans to restore the export corridor to Romania and build a chain to Slovakia. This will allow Ukraine to increase supplies and energy support to the European Union. Now it is said that imported electricity from Ukraine to the EU can replace about 17% of Russian gas, and therefore will allow gradual departure from cooperation with Russia.
Why will cooperation with Ukraine have not only economic but also environmental benefits?
Ukraine generates electricity at nuclear, hydro, and thermal power plants (hereinafter NPP, HPP, TPP) and from alternative sources. According to the Ministry of Energy, the main share in the total electricity generation in 2021 was NPP – 55.1%, TPP and CHP – 29.3%, HPP and PSH – 6.7%.
However, in 2021, Ukraine's electricity production at hydropower plants increased by 37.7% and through alternative sources – by 15.3%, compared to the previous year. This is a positive trend that should be maintained.
Connection to European energy networks obliges Ukraine to start global "greening" of energy and significantly increase the share of electricity generation from renewable sources. Modernization of production technologies will not only make it more environmentally friendly, but also increase its volume. In addition, Ukraine has the potential to build new power plants, which is both an investment opportunity for Europe and thousands of new jobs for Ukrainians.
How else will Ukraine be useful for Europe?
Ukraine is a reliable partner of Europe, fulfilling all its obligations. The transition to a new stage of cooperation in energy supply will help provide the necessary amount of resources, regulate prices, and, most importantly, get rid of the bondage conditions of cooperation with the Russian Federation forever.
In addition to providing Europe with electricity, Ukraine offers European companies to use Ukrainian underground gas storage systems. This will help create the necessary strategic reserves to "smooth out" seasonal price fluctuations for individuals and businesses. For these purposes, Ukraine is ready to allocate up to half of its capacity, the total volume of which is more than 30 billion cubic meters of gas. This was stated in the address of the Deputy Minister of Energy of Ukraine Mykola Kolisnyk during his speech at the 25th Gazterm-2022 conference.
The refusal of European countries from any economic relations with Russia will hit its budget and reduce the financial base for hostilities. Every minute of delaying the imposition of large-scale economic sanctions has a terrible price for Ukraine: the lives of Ukrainian citizens, destroyed housing and infrastructure, irreversible economic and demographic losses. For Europe, it is a decrease in the solvency of its population, rampant inflation, and a food crisis.
It is time to take decisive action so that Russian aggression in Ukraine does not have devastating consequences for the whole of Europe!