Changpeng "CZ" Zhao, who runs the crypto exchange Binance, has joined the ranks of the world's top billionaires, with an estimated net worth of at least $96 billion, according to new calculations from the Bloomberg Billionaires Index
published
Monday.
However, according to the agency's estimates, the size of the fortune can be much bigger when you take into account all the assets he owns in cryptocurrency.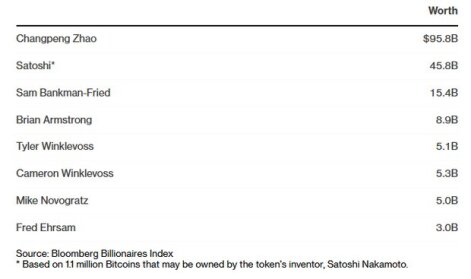 Today Changpeng Zhao leads the world's top ten richest people and is the richest person in Asia.
Changpeng Zhao was born in China, but his family emigrated to Canada in the late 1980s. He also has the status of a resident of Abu Dhabi.
The billionaire started working in cryptocurrencies in 2013, and in 2017 founded Binance, which in a few years became the largest cryptocurrency exchange in the world. In 2021 alone, Binance's revenue was about $ 20 billion.
In a
post
on Twitter Monday, Zhao also appeared to acknowledge the distinction.
"Don't worry about rankings. Focus on how many people you can help," he wrote.