Two educations, travels, a promising sports career. And then - a terrible accident, six months under mechanical ventilation, extremely complex surgeries. Events and challenges in the life of this girl would be enough for several lives. As well as her strength of spirit. After all, despite the terrible diagnosis, Iryna Mitina continues to smile, looks for new senses and inspires others.
"Sapiens dominabitur astris" ("The wise man will rule over the stars") is a motto that adorns Iryna Mitina's Instagram profile. She is an influencer, Ira's pages are watched by thousands of people on various social networks. The story of her life and the energy that this girl radiates, give hope and strength to change their lives for the better for many people with disabilities, and others - encourage them to rethink their own values ​​and priorities.
Ira was born in Latvia, but later moved to Ukraine with her family. Kyiv became a place of strength for the girl. Here she studied, first mastered the profession of hairdresser, and then - educated as a psychologist. Here she found herself in sports, actively engaged in women's fitness and bodybuilding. At the request of her friend and coach, Ira took up weightlifting and in a few months achieved results that professional athletes have been achieving for years.
" I was one of the first" fitness girls in Ukraine. Loved sports, loved active life and always wanted to look 200%. It was then that women's fitness began to develop in Ukraine and my friend and trainer offered to try myself there. I had excellent physical background, I even had plans to go to a master of sports. But everything fell down in a moment," Iryna recalls.
What happened one night in October 2008 not only canceled Iryna's ambitious plans in sports, but also radically changed her whole life. A trip from Pereyaslav-Khmelnytsky by car, fog, slippery road - the car skidded, and it overturned four times. Miraculously, almost none of the passengers were injured - except for Ira.
"I was napping in the back seat and woke up from the fact that everything in the car was spinning like crazy inside a washing machine… I came to my senses, reached out to pull out. It was a big mistake. Because then, as the doctors explained, a fragment of the spine pierced the nerve ," the girl says.
Severe damage to the cervical vertebrae, complete paralysis, many hours in search of a clinic where a difficult patient would be operated on. There was almost no chance of surviving such an injury, and doctors advised the family to prepare for the inevitable. However, Ira and her family did not give up.
Eventually, the girl underwent a unique operation at the Kyiv ambulance hospital: the replacement of one of the vertebrae with an artificial prosthesis. With her inherent optimism and vital energy, Ira hoped to recover quickly and return home. However, after a very complicated operation and severe complications, Ira lived for six months under an ventilator in an ambulance.
She was then taken to a newly opened private medical center, which lacked the necessary equipment. So Ira's close friends searched for the old surgical pump and pumped the fluid out of her lungs.
Ira recalls: the hardest thing was to hold on morally. After all, then most of the comrades and acquaintances simply disappeared from the horizon. And treatment and rehabilitation cost a lot of money: in the first month alone, Ira's family spent about 30 thousand dollars. It was necessary to buy medicines for several thousand hryvnias every day. Were it not for the donations of close friends and hundreds of strangers, it would be unrealistic to cope with such a financial burden on the family.
The special gymnastics developed by Iryna's friend and coach Vyacheslav also gave results: for some time, despite the disappointing forecasts of doctors, Ira began to breathe on her own.
And then - a new test and a new victory. Thanks to caring people, the girl managed to raise funds for treatment in China. In a Chinese clinic, Iryna had a transplant of healthy stem cells from her thigh to her neck. This did not fully restore the ability to move, but became a positive stimulus. Unfortunately, the girl did not have enough money for long-term and expensive rehabilitation abroad, and the course of recovery in the Zaporizhia clinic had to be postponed - first a pandemic and then a war.
But Ira still does not give up and is looking for new opportunities and meanings of life.
"At one point I felt terrible fatigue, hopelessness and devastation. I was sitting at home, not doing anything, nothing interested me and made no sense. But drawing brought me back to life," she says.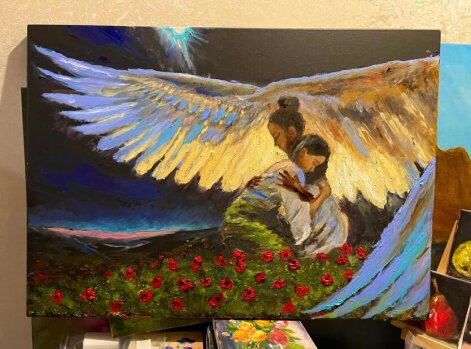 Although Ira's hands are still working only 30%, it did not stop her. The girl bought an easel, found online lessons, invented and designed a device that helps her hold the brushes. Irina sells her paintings - fantastically beautiful oil landscapes, drawings of animals, biblical stories - via the Internet. And this not only earns a living for himself, but also helps others by directing part of the funds to charity.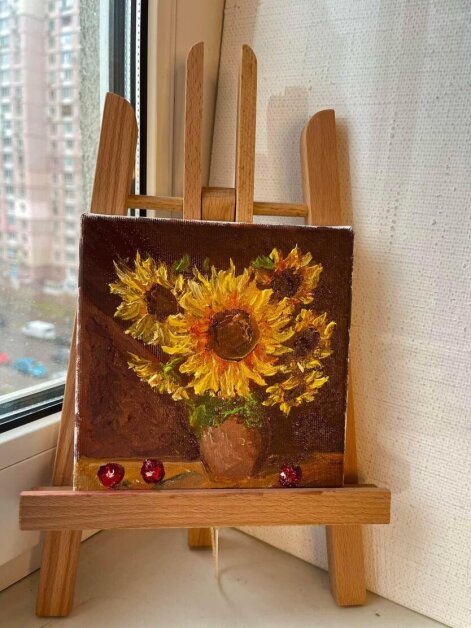 "Beautiful works", "Unique paintings, painted not by hand but by heart", "Works filled with pure light ", - such reviews on social networks are left by fans of Iryna's work. And those who are lucky enough to communicate with Ira in person add: having learned her story, you begin to truly appreciate life and all its manifestations.
Iryna does not give up. She paints places she has never been to, but would like to visit. Actively maintains social networks and provides psychological support to people with disabilities, critically ill patients, patients of hospices and boarding schools. And Ira has a dream: to organize an exhibition of his paintings to prove to the world - "Sapiens dominabitur astris".
You can bring the realization of the dream of this fragile but strong girl closer with your donuts:
Monobank 4441114440174116 - Mitina Irina
Privatbank 4149499110359922 - Mitina Iryna