Vsevolod Nepogodin on the sports destiny of Alexander Zinchenko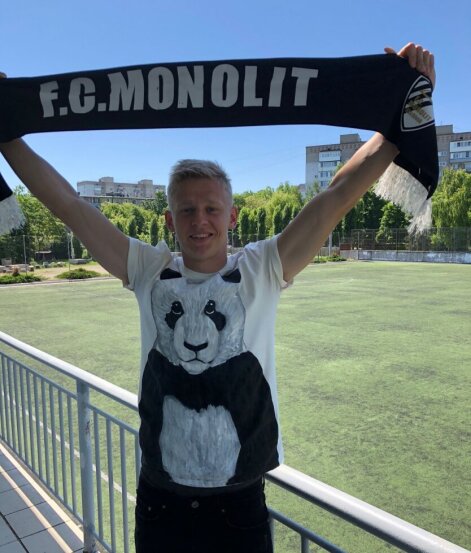 For Oleksandr Zinchenko, 2021 is going to be very successful – he played for "Manchester City" in the Champions League final against "Chelsea", he scored a goal for Sweden in the 1/8 European Championship match, as a part of the Ukrainian national team. But the career of a provincial guy from Radomyshl might not have worked out, fi it wasn't for this. Recently, I met a longtime acquaintance, Artem Vyderko, who previously worked as a selector at the Donetsk "Shakhtar" Academy:
– I have known Zinchenko since I was thirteen. I personally took him from Ilyichevsk for only eight hundred dollars, Avagimyan was bought for a bag of balls. I saw Zinchenko in Ilyichevsk at a tournament. Then, he returned to Donetsk, arranged a business trip, took cash from the club's cash desk for an intended purpose, and made the transition.
In 2016, Zinchenko moved from "Ufa" to "Manchester City" for 2 million euros. As of Autumn, 2021, the "Transfermarkt" portal estimates Alexander's potential transfer at 28 million euros. For comparison, the planned budget revenues for 2021 for Zinchenko's native Radomyshl are 213,395,521 hryvnia or 6 million 848 thousand euros. In addition to the usual clichés about the healthy upbringing of the younger generation, it is time to talk about the fact that football can be a profitable business. For twelve years, the transfer cost of Zinchenko has grown 40,950 times.
From the fourteen-thousandth Radomyshl, Zinchenko moved to the sixty-thousandth Ilyichevsk due to the presence of a sports boarding school and the "Monolith" team, which played in the children's and youth football league. Odessa is only sixteen kilometers away from  Ilyichevsk, renamed Chornomorsk as a part of decommunization. Ilyichevsk teams traditionally take part in Odessa city competitions. Five years ago, as a player of the Odessa "Athletic", I was carried to the field of the Ilyichevsk secondary school №4, where Alexander Zinchenko trained in 2008-2009.
Chornomorsk is a small farm in the countryside, which became a city only in the post-war period on the wave of industrialization. Homes were demolished, and a sea trade port was made instead. Quite a few berths, wagons, cranes and warehouses. No architecture, no parks of culture and recreation, no places for leisure. Nothing! Only the industrial dullness and despondency of five-story Khrushchev. The stairs to the sea were copied from Potemkinskaya, but the relaxed resort atmosphere of hedonistic Odessa still could not be recreated. Even from the name of the team, "Monolith" reeks of factory melancholy – young footballers were supported by a construction company associated with the production of reinforced concrete structures.
Children from "Monolith" trained on a field with an artificial turf – there was no natural lawn. In 2016, the state of the field was unsatisfactory – the synthetic material was pretty worn out, there were bald spots made of black crumbs everywhere. The field was squeezed into a residential area. A concrete retaining wall ran along the entire length of the edge farthest from the training building – there was a high risk of injury for the flanking players. The dressing room had spartan conditions – old benches and hooks on the walls. No hot water in the showers. The sports infrastructure, where Zinchenko was formed as a player, was not in the best condition. But for a puny native from the middle lane, the presence of the sea and the southern sun became a big plus.
In Kyiv, on Degtyarevskaya Street, there is a monument to an insurance agent in the form of a pair of eighty-centimeter bronze boots. The insurance agent has to trample a lot of shoes in the search for clients. A similar monument should be given to football breeders traveling through the provinces in search of talent. What would have happened to Zinchenko if Artem Vyderko had not dropped in the peripheral Ilyichevsk? Would he ever play in the Champions League final? Would he grow up to be in the Ukrainian national team and the Euro 2020 playoffs? I have no clear answers to these questions.
Each era has its own pros and cons. Today, even the matches of youth teams are recorded and posted by parents on YouTube in order to promote talent. But with digitalization, the number of bureaucratic obstacles has also increased, because there is a clear record of the participation of players in competitions and sometimes problems arise during transitions related to compensation payments. In the early nineties, even professionals sometimes calmly changed teams without any compensation due to a confusion with documents. There are more artificial fields, and the number of children exercising has increased. But in the nineties, it was the hungry and angry street children who did football. And now, often well-fed and well-fed teenagers are forcibly led to training by parents, who want their children to embody their own unachieved sports ambitions.
Ten years after the "Bastion" club collapsed, there's still no professional team in Chornomorsk. After graduating from a sports school, local boys go to work as dockers or leave in search of a better life in larger cities. When acquaintances from Chernomorsk invite to visit, the catch phrase from the Soviet cinema "If you are in Kolyma, come in!" After the game, I ran, flashing my heels on the bus to Odessa, just to get out of Chernomorsk as soon as possible. There are places where you never want to visit again, and the former town of Ilyich certainly belongs to such. The atmosphere of a small port town is too hopeless. Hence, it's so surprising how Zinchenko managed to get to the top of European football, while coming from such a sad place.
The jump to the top required self-confidence, tireless work, tremendous energy, thirst for victories and a pinch of luck. But the main thing is that, even after achieving success, Zinchenko did not forget about the town, which gave him the chance and opportunity to play football. While already being the champion of England, in the "Manchester City" team, Zinchenko came to Chornomorsk and talked with schoolchildren, sharing memories and giving instructions. Alexander shared photos from Chernomorsk on Instagram – the picture from the dorm room is especially memorable. Zinchenko proved to people, that you're capable of achieving anything, even if you come from such a depressing place.
But there are also many coaches who are careless about their work. They recruit oblique and lame for the quantity, as long as the parents pay, who are guided by the immediate result in children's competitions, and not focused on the kids becoming professionals. Dribbles and improvisation are prohibited; in the case of amateur performances on the field, they are immediately put on a bench. They don't go to the outback and don't look for talents. Of course, there is little benefit from such figures. Young Zinchenko was once rejected by coaches from Dynamo Kiev because of his modest anthropometric data. And these are specialists from the main school of the capital of the state – they are not worth a price if they don't see the future star! It was only in Ilyichevsk, where they believed in a guy from the Zhytomyr region.
Croatia, with a population of only four million, made it to the finals of the last world championship, and their local clubs regularly sell homegrown players for tens of millions – this sets a good example for Ukraine. In Croatia, where the main branch of the economy is tourism and there is no metallurgy with black soil, they are careful to educate their athletes as a profitable and profitable process. In Ukraine, football is now a loss-making subsidized toy of industrial oligarchs, agricultural barons and smugglers. It is time, already in the thirty-first year of the existence of an independent state, to switch to civilized, economically justified principles of football management, the cornerstone of which is the upbringing and sale of their own pupils. Throughout Europe, football has long been a profitable business, and only in post-Soviet countries is it either a development of budgetary funds, or an inexhaustible whim of the nouveau riche.
Surely today in Priluki, Gaisin or Zheltye Vody there is a promising thirteen-year-old teenager who can grow into a player of a continental scale. A battered ball is chasing in vegetable gardens with grass, but the representatives of sports schools from regional centers do not notice it. But he, like in a song, only needs a few words and a place to step forward. Zinchenko was noticed in time, and how many talents were overlooked, missed and missed. Ilyichevsk received the status of a city in 1973 and Zinchenko's two-year study in it is the most curious and significant event in its almost half-century history. It must be remembered that football is a social lift and sometimes the only available opportunity for a young man from a small town to achieve fame and a dignified existence.
Now in football there is a payment of solidarity – sports schools receive five percent of the subsequent sales of their pupils. Only now, the coaches who raised the players do not get anything from solidarity payments, which negatively affects the motivation in work. It is fair if the solidarity payment mechanism also includes payments directly to coaches. While Zinchenko is bound by a contract with "Manchester City" until June 30, 2024, but in Chornomorsk they will definitely be happy if the Arab sheikhs who own the Mancunian club sell Alexander somewhere – if we take the cost of the transfer at 28 million euros as a reference, then the solidarity payment will be 1 , 4 million euros, most of which will go to "Shakhtar" Donetsk, where the player in youth football spent four and a half years. However, we will talk about the amount, upon receipt of which the sports school in Ilyichevsk will be able to replace the leaky synthetic field, update the locker rooms, renovate the hostel, and young footballers from the port town will have a comfortable place to step forward.